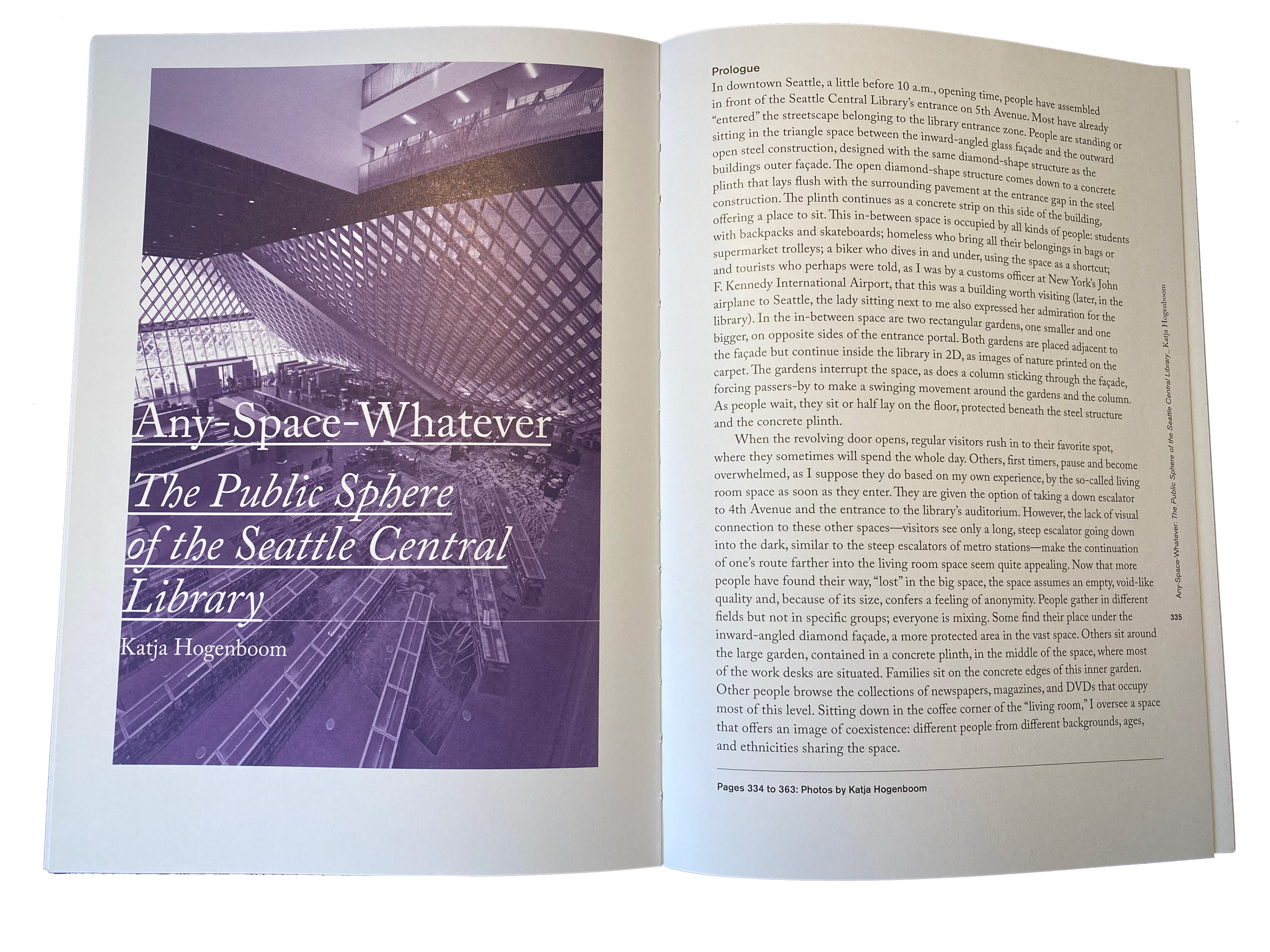 Any-Space-Whatever - The Seattle Public Library
ABSTRACT: 
Most buildings that ooze publicness from their walls (such as malls and other urban interiors) are nothing but corporate enclosures full of quasi-ritualistic repetitions directed by the reign of private property interests and policy. Reimagining the public role of the library is not an unusual ambition for a library in the present information age. Many libraries in the twenty-first century see their role as changing from a repository of books toward a place to meet, to work, and to provide access to all forms of digital media. In this article, I investigate the Seattle Central Library (2004), designed by OMA (Rem Koolhaas and Joshua Prince-Ramus). More than any other contemporary library, this project from its inception engaged and focused on how the public role of the library could be rethought. Koolhaas reportedly told the library design team, "Demonstrations should take place inside the building."1
The wish to see (political) demonstrations inside the building expresses an ambition to create a building of public character, one where the library acts as a public sphere, offering a platform—as if a city square—where conflict can manifest itself.2 Koolhaas points to what we might call the political of architecture. In philosophy and the political sciences, "the political" refers to a broadly shared public sphere, a rational idea of being together agonistically in a place where disagreement and freedom prosper. In such a space, all can participate and disagree with one another on an equal basis; it is a space of polity where no single foundation stands central or dominant, except those of equality, brotherhood, and freedom. In this space, people, including those who have no part in society, can act and speak (demonstrate) on equal terms. Politics, in contrast, refers to the power plays between the different actors and the everyday choreographies of policymaking within a given institutional and procedural configuration in which individuals and collectives pursue their daily interests. Politics belongs to the assemblages of governance—the tasks of the police—that mark the public management of the public space of a society (library); what the management and leadership set out as policy of rules.3 Unique to the Seattle Central Library is that both the client and the architect opposed the postdemocratic sphere of the outside world and sought to create a public sphere in opposition to the sociospatial configuration of neoliberalism in which security, surveillance, and consumerism are the dominant forces. Both the client's policy of governance and the idea of the political addressed by the architect show that reinstalling a sense of publicness was a central point in their endeavour to create this public library.
Hogenboom, K. (2019) "Any-Space-Whatever – Setting the Stage in the Seattle Public Library" for Re-Thinking the Social in Architecture, Eds. Sten Gromark, Jennifer Mack, Roemer van Toorn.